The transition to Ethereum 2.0, which was renamed the consensus layer, continues to gain momentum because the amount of staked Ether is nearly 10% of the entire ETH supply.
Crypto research firm Delphi Digital explained:
"Over 10 million of ETH has been staked in the ETH2 deposit contract, 8.56% of the total ETH supply. With the ETH2 merge slated for end-Q2, yields for staking ETH with validators are expected to increase as transaction fees previously earned by miners will now be earned by validators."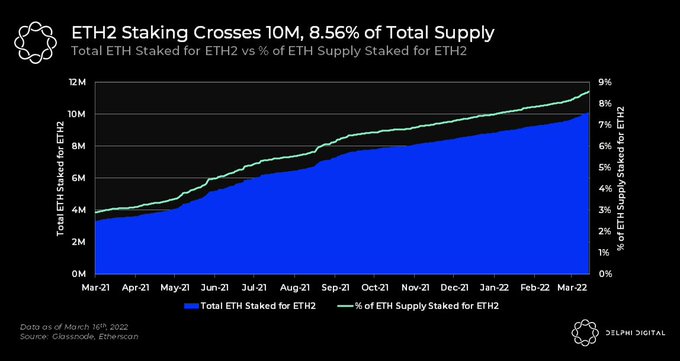 Source: Delphi Digital
The continuous growth of the ETH 2.0 paints an optimistic picture that investors are still confident about the much-anticipated merge.
Established in December 2020, Ethereum 2.0 intends to shift the ecosystem from the current proof of work (PoW) framework to a more cost-effective and environmentally friendly proof of stake (PoS) consensus mechanism.
The number of validators on the Ethereum network has also been increasing, given that it recently hit the 300,000 mark.
With the transition to ETH 2.0 slated for Q2 2022, validators will take up the role of miners when it comes to the confirmation of blocks based on the amount of ETH staked, given that it acts as collateral against dishonest behaviour.
The merge is viewed as a game-changer that will boost Ethereum as a deflationary asset, given that the London Hardfork or EIP 1559 upgrade already set the ball rolling.
Launched in August 2021, the London Hardfork or EIP 1559 introduced a feature where Ether would be burnt every time it is used in transactions. This has been causing a supply deficit, which triggers the deflationary notion, given that its value is expected to continue increasing with time on the foundation of slashed supply.
Image source: Shutterstock