As March comes closer and closer, preparations for this year's return of Miami Music Week continue in earnest. This week, we have a great new set of events that have been announced, many from popular festival brands such as The BPM Festival and Circoloco.
Here is all the information you need on the newest events joining the MMW lineup.
The BPM Festival Miami Event
After recently announcing the cancellation of its Costa Rica edition, The BPM Festival is making its official return to the city of Miami. Taking place for two days during Miami Music Weekend, event organizers are partnering with Humans Alike to bring a special treat to BPM fans and party-goers alike. The official lineup has yet to be released, but it is expected to be announced closer to the festival.
Date: Friday, March 25th – Saturday, March 26th
Where: Little River Studios
Age Restriction: TBD
Tickets: Preregistration is now open. Passes officially go on sale on Tuesday, February 8 at 2 PM EST.
Circoloco Miami
Circoloco will be marking its footprint in the Magic City once again during Miami Music Week. Location details have yet to be announced, but it has been specified that this will be a warehouse takeover someplace in Downtown Miami. No lineup has been shared as of yet.
Date: Thursday, March 24th @ 10 PM
Where: Downtown Miami, venue TBD
Age Restriction: 21+
Tickets: The sale begins on Friday, February 4 at 12 PM EST.
Drumcode Miami Event
Adam Beyer returns to Miami's Club Space with the grand return of his Drumcode Miami showcase, an annual tradition for the week-long music celebration. The Swedish artists will be taking over the Terrace until the early hours of dawn, giving party-goers a full night of music and dancing. According to the official Club Space social media, the full lineup for this event will be announced soon.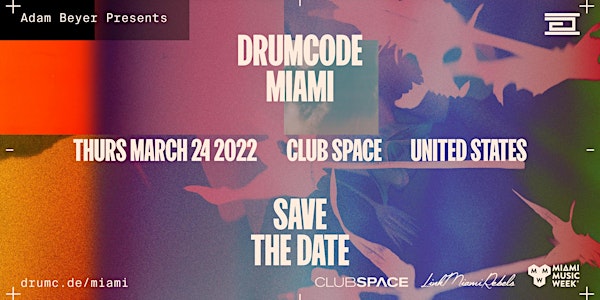 Date: Thursday, March 24th @ 11 PM
Where: Club Space
Age Restriction: 21+
Tickets: $20 – $100
Gorgon City Presents Realm
Event promoters BLNK CNVS will be hosting the 2022 return of the iconic Gorgon City Realm event. Known for hosting some of the best MMW events in years past, the promoters are promising a stacked lineup you don't want to miss.
Date: Thursday, March 24th @ 9 PM
Where: Oasis Wynwood
Age Restriction: TBD
Tickets: Artist Pre-sale begins on Thursday, February 3rd @ 10 AM. Those interested in signing up for the sale can do so here. The public sale will begin on Friday, February 4th @ 10 AM.
The post Miami Music Week Events Coming at Rapid Pace appeared first on EDMTunes.